Roberto Panzarani, Il viaggio delle idee: per una governance dell'innovazione [update 15/03/05]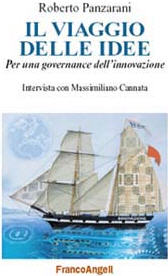 Aggiornamento
del
15 marzo 2005

v. i link in calce a questa segnalazione
Il saggio [2] di 128 pagine, pubblicato nella collana di Franco Angeli "La società industriale e post-industriale", è una conversazione tra Massimiliano Cannata, giornalista ed esperto di comunicazione, e Roberto Panzarani [3]. Partendo dalla convinzione che "L'innovazione non è un solo un fatto tecnico, un metodo rigido che determina il successo di un'idea, di un'intuizione, di una proposta, ma è piuttosto il frutto di un'attitudine mentale, di una predisposizione psicologica che va alimentata con la ricerca, il confronto, lo scambio di più punti di vista", il testo, alla cui stesura ha collaborato anche Paola Previdi della cattedra di Processi di Innovazione all'Università La Sapienza di Roma, intende essere "uno strumento concreto di approfondimento" per imprenditori e manager.
Per ampliare la discussione, con le associazioni AIF [4] e AIDP [5], saranno organizzate due presentazioni, il 23 marzo a Roma e il 20 aprile a Milano.

Gli approfondimenti nel sito della Fondazione:


nella sezione Argomenti, Paola Previdi ha scritto l'articolo "Il viaggio delle idee e la governance dell'innovazione [6]", dal quale si raggiunge anche un abstract del libro;

nel Blog "DiaBloghi", curato da Tommaso Correale Santacroce, Paola Previdi ha scritto il contributo "Le idee si muovono? [7]";

Daniele Navarra, nel suo Blog, ha scritto "Governing Innovation in the Information Society: the need to account for the intangible dimension [8]"
Mostra/Nascondi i link citati nell'articolo
Link citati nell'articolo:
1] /schedabiografica/Redazione FGB
2] http://www.francoangeli.it/NovitaMail/Novita.asp?Codice=1481.107
3] /panzarani.htm
4] http://www.aifonline.it/
5] http://www.aidp.it/
6] /06/argomenti/2005_03.htm#000366
7] /06/diabloghi/000364.htm
8] /06/navarra/000363.htm
CC
Creative Commons - some rights reserved.


Download pdf