'Boiler', giornale di scienza, innovazione e ambiente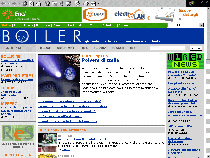 Il direttore Giancarlo Bosetti definisce
Boiler

[2]
come 'un sito dove ambiente, scienza e tecnologia possono bollire insieme', caratterizzando così uno dei nove spazi culturali sponsorizzati dall'Enel. Le numerose rubriche, gli articoli e le notizie settimanali, le recensioni dei libri, la traduzione italiana delle news di
"Wired"

[3]
e quella non ufficiale di
"Science now"

[4]
arricchiscono periodicamente i contenuti del sito, rendendo la visita un appuntamento da rinnovare con continuità. Tra i libri di recente segnalati in home page, risaltava "Preda" (edito da
Garzanti

[5]
) di
Michael Crichton

[6]
, presentato, con un'intervista all'autore, nellÂ'articolo
"I nanometri mi hanno preso la gola"

[7]
. Destinato a tutti, il libro analizza i possibili sviluppi della biotecnologia e della nanotecnologia e raccoglie utili riferimenti bibliografici per approfondire lÂ'argomento.
Degli articoli pubblicati da Wired su nanotecnologie e robotica, Boiler ha una ricca raccolta dove è possibile trovare: "Attacco alle (nano)macchine" [8] e "Robot molecolari, è davvero possibile ?" [9] di Noah Shachtman, "Questa è proprio una bella ideaÂ..." [10] di Kristen Philipkoski, "Vita migliore con la nanotecnologia" [11], "Il robot che verrà" [12] di Kendra Mayfield.
Nel sito della Fondazione Bassetti, il tema delle nanotecnologie è ricorrente ed è stato iniziato, nel 2000, indicando l'inquietante articolo di Bill Joy (direttore della ricerca e vicepresidente della Sun Microsystems) "Why the future doesn't need us", pubblicato prima su Wired e poi ripreso da molti altri giornali. Abbiamo in seguito raffrontato la visione, abbastanza apocalittica, di Joy a quella divergente, se non opposta, di Michael Dertouzos (Direttore del Laboratory for Computer Science del MIT scomparso nell'agosto 2001). Si vedano le News del 23 luglio 2000

[13]

, dell'8 settembre

[14]

e del 9 ottobre 2001

[15]

.
Di Kendra Mayfield è anche lÂ'articolo
"MIT, dalle idee più brillanti al business"

[16]
, dove è presentato il
Deshpande Center

[17]
, istituto fondato dal MIT di Boston che intende proporsi come agente catalizzatore di innovazioni e imprenditorialità.
Cogliamo qui l'occasione per rammentare che questo tema è stato affrontato da Richard Nelson (economista della Columbia University) il 17 e 18 giugno 2002 nell'incontro organizzato dalla Fondazione Bassetti e dall'Università Bocconi (si veda la pagina 1 della sezione Argomenti

[18]

), in particolare nell'intervista

[19]

che, in tale occasione, gli fece Margherita Fronte.
In Boiler è attivo anche un
forum

[20]
dove la molteplicità degli argomenti ed i numerosi interventi mostrano come il sito sia frequentato da una community attenta ed interessata.
Nell'elenco dei siti segnalati nella sezione
link

[21]
, emergono le pagine scientifiche di famose testate giornalistiche (
The New York Time

[22]
,
Filemazio

[23]
), la versione digitale della
Bbc

[24]
e della
Cnn

[25]
e le riviste
Nature

[26]
,
Science

[27]
,
New Scientist

[28]
,
Salon

[29]
,
SiliconValley.com

[30]
,
National Geographic

[31]
Mostra/Nascondi i link citati nell'articolo
Link citati nell'articolo:
1] /schedabiografica/Redazione FGB
2] http://www.boiler.enel.it
3] http://www.wired.com
4] http://sciencenow.sciencemag.org/
5] http://www.garzanti.it
6] http://www.crichton-official.com/
7] http://www.enel.it/magazine/boiler/speciali_dett.asp?iddoc=339503&titolo=Speciali%20-%20%22I+nanometri+mi+hanno+preso+alla+gola%22
8] http://www.enel.it/magazine/boiler/wired_dett.asp?iddoc=509437&titolo=Wired - Attacco+alle+%28nano%29macchine+
9] http://www.enel.it/magazine/boiler/wired_dett.asp?iddoc=509438&titolo=Wired - Robot+molecolari%2C+%E8+davvero+possibile%3F
10] http://www.enel.it/magazine/boiler/arretrati/123wricerca.shtml
11] http://www.enel.it/magazine/boiler/arretrati/boiler106/html/articoli/wired-nanotecnologia.asp
12] http://www.enel.it/magazine/boiler/arretrati/108wiredrobot.shtml
13] /02/archivio-news/news02-doc.htm#bill-joy
14] /02/archivio-news/news09-doc.htm#010908
15] /02/archivio-news/news09-doc.htm#011009
16] http://www.enel.it/magazine/boiler/arretrati/110wiredmit.shtml
17] http://web.mit.edu/deshpandecenter
18] /02/argomenti02-doc.htm#nelson
19] /0due/docs/fronte-intervista-nelson.htm
20] http://community.enel.it:8080/%7EScienzaAmbiente/expand?4
21] http://www.enel.it/magazine/boiler/links.asp
22] http://www.nytimes.com/
23] http://www.filemazio.it/
24] http://www.bbc.co.uk/
25] http://www.cnn.com/
26] http://www.nature.com/
27] http://sciencemag.org/
28] http://www.newscientist.com/
29] http://www.salon.com/tech/index.html
30] http://www.siliconvalley.com/
31] http://www.nationalgeographic.com/
CC
Creative Commons - some rights reserved.


Download pdf