20 passi per un dialogo
Con questo post intendo ripercorrere la conversazione [2] che si è svolta on line recentemente (e forse continuerà a svolgersi) fra Fiorella Operto, Tommaso Correale Santacroce e me.
Il dialogo era partito come una sorta di intervista a Fiorella Operto e verteva sull'argomento del rapporto fra Arte e Scienza, o meglio: fra Arte e Robotica. Per meglio precisare e per essere più circostanziato: del rapporto fra comunicazione artistica (Fiorella da anni si occupa di comunicazione e di divulgazione scientifica) e robotica.
Fiorella ha subito posto in luce come sia connaturato allo spirito artistico l'aver a che fare con l'imprevedibile. Più volte ritroviamo nel dialogo (e in numerose occasioni lo si trova nel sito della FGB) il nesso fra "imprevedibile", "improbabile", "innovazione" (si pensi a come questi termini richiamino, pressoché immediatamente, i concetti di "libertà" e di "responsabilità"; tant'è che, nella nostra conversazione, a un certo punto è emersa la domanda se si possa parlare di responsabilità dell'artista).
Anche la robotica --ci dice Fiorella-- essendo una scienza allo stato nascente, per sua natura è una specie di "combinazione" interdisciplinare della quale non riusciamo (ancora?) a prevedere quale sarà il filone applicativo che andrà per la maggiore.
La nostra conversazione, essendo un'esperienza in presa diretta, ma per sua natura composta da interventi asincroni, si è sviluppata un po' come --citando Tommaso-- i filamenti delle nuvole. Se ci si pensa, è proprio questa sua caratteristica ciò che ha consentito una certa ricchezza di spunti, sia pur a scapito della coerenza. Cercare la coerenza nel mentre una forma di comunicazione di questo genere, in tempo reale e a più voci, si sviluppa frenerebbe di molto la spontaneità delle idee espresse.
Siamo così "passati attraverso" il principio estetico nella scienza, le opere di Patricia Piccinini (l'arte come suggestione, l'arte come "messa in scena" di relazioni), il convegno (in quel momento in corso) "Modern Biology and Visions of Humanity", "Oxygen" di Carl Djerassi, Scienza e Teatro, lo Specchio (...Alice nello specchio ci passa attraverso), il robot come ente che costringe l'essere umano a confrontarsi col proprio "io" (...lo specchio "costringe" gli astanti a confrontarsi con la propria immagine, a "ri-conoscersi" o a non "ri-conoscersi" in essa; e il problema del riconoscere un robot è argomento topico di molti film...), proprio come gli artisti ci "costringono" a guardare (e poi a "vedere") qualcosa che, diversamente, non ricadrebbe nella nostra prospettiva, nella nostra percezione, nella nostra comprensione del mondo.
Da Milton a Calvino al Capek di "R.U.R, Rossum's Universal Robots", a Pinocchio, Frankenstein, il Golem, a Nathan Never.
Fino al concetto di un "mondo misurato e dominabile", senza più imprevisti e... senza innovazione?
Robot (idealtipici) che ci prendono per mano e ci conducono a interrogarci sulla nostra libertà e responsabilità.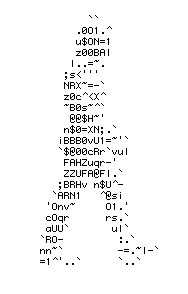 [25 maggio]
Not about robots, but about us
Così si chiude un recente articolo che Bruce Sterling ha scritto per Wired [3] (ringrazio Paola Parmendola per avermelo segnalato):
'If the symposium [Ndr: the First International Symposium on Roboethics [4]] offers a take-home message, it's not about robots, but about us. It's about the likes of Alfred Nobel, a person so farsighted that he changed the face of science. He also became one of the most notorious arms dealers of his time. San Remo was his final refuge from the opprobrium of the civilized world.
Ever since Karel Capek introduced the term with his 1924 play R.U.R. or Rossum's Universal Robots, robots have been our theatrical attempt to dress up technology in human form. They embody our very human desire to make technology into a buddy or maybe a doppelgänger - but at least somebody. Somebody like us, with one improvement: We can make a robot behave, even though we've never managed that trick with ourselves. After all, Nobel was a humanitarian benefactor who enriched the world with his weaponry. Being good is nowhere near as simple as it sounds.'
Si veda anche l'intervista che gli ha fatto Sylvie Coyaud (riportata nel blog "Tout se Tient"):
link diretto all'intervista [5]
"Avremo i robot che ci meritiamo [6]" (il post nel blog Tout se Tient)
Mostra/Nascondi i link citati nell'articolo
Link citati nell'articolo:
1] /schedabiografica/Gian Maria Borrello
2] /it/pagine/2008/01/dialogo_on_line_tra_fiorella_o.html
3] http://www.wired.com/wired/archive/12.05/view.html?pg=4?tw=wn_tophead_9
4] /it/segnalazioni/2004/02/roboethics_220204.html
5] /it/itframeset.php?content=http://www.fondazionebassetti.org/toutsetient/blog/coyaud-sterling1.htm
6] /it/itframeset.php?content=http://www.fondazionebassetti.org/toutsetient/blog/2004_02_01_archive.htm#107745138680738543
CC
Creative Commons - some rights reserved.

Download pdf