Bioetica e Biobanche Genetiche: la situazione in Italia
Dalla Dott.ssa Deborah Mascalzoni (EURAC research, Institute of Genetic Medicine - Section Bioethics) ricevo e volentieri pubblico il seguente annuncio.
NETWORK: Bioetica e Biobanche Genetiche: la situazione in Italia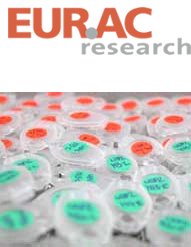 28-29 Ottobre 2005, EURAC Bolzano
I progetti di genomica e le biobanche genetiche presentano una vasta gamma di problematiche normative che, pur essendo ampiamente investigate a livello internazionale, configurano un panorama non completamente univoco o comunque ancora non tradotto in documenti vincolanti. Un'analoga incertezza si può ravvisare a livello nazionale, dove le ricerche e le iniziative non sempre appaiono tra loro coordinate né sono oggetto di un ampio dibattito tra gli esperti e il pubblico. La realtà della ricerca italiana nel contatto con le popolazioni coinvolte offre spunti per ripensare e ri-progettare strumenti e modalità di interazione tra ricerca e cittadini.
Nasce l'esigenza di mappare le realtà Italiane e strutturare una rete di comunicazione tra esperti per esplorare la ricchezza delle riflessioni etico-giuridiche sviluppatesi nell'ambito delle biobanche genetiche, che sia in contatto diretto con la realtà del laboratorio, ma che valorizzi e tragga spunto dalle varie competenze coinvolte.

La sezione di Bioetica dell'istituto di medicina Genetica presso l'EURAC di Bolzano lancia la proposta di un network di competenze etico/giuridiche in relazione alle biobanche genetiche e ai progetti di genomica di popolazione.
L'idea è di riunire le esperienze accumulate e le competenze nazionali. Gli scopi sono molteplici:
evitare la dispersione di fondamentali know how sulle procedure di chi già ha accumulato un'esperienza significativa


fare il punto della situazione normativa cercando di delineare le esigenze dei progetti (laddove leggi e linee guida esistenti si rivelano lacunose o inefficienti)


proporre soluzioni o pensare a progetti comuni per implementare la ricerca e lo sviluppo di strumenti di contatto tra le esigenze della ricerca e quelle delle popolazioni coinvolte


conoscere le altre realtà italiane
Il primo passo dovrebbe consistere nell'identificazione delle figure operative per ogni gruppo che intende partecipare, per procedere poi nell'elaborazione di un progetto di ricognizione: dove si colloca e dove sta andando la ricerca genetica italiana? Quale etica e quali strumenti per la genetica di popolazione? Quali problemi e soluzioni per la ricerca e le biobanche genetiche?
L'idea è di compiere una mappatura delle problematiche ancora aperte e rilevanti per continuare nella ricerca e nella implementazione dei risultati. Tale ricognizione potrà essere oggetto di una pubblicazione sullo stato dell'arte e le prospettive per il futuro del panorama Italiano. Lo stato della riflessione in Italia, che deve collegarsi alle realtà internazionali, può essere il punto di partenza per linee di ricerca comuni e spunti di riflessione.
Con questo spirito l'Istituto di Genetica medica intende proporre un primo incontro a Ottobre a Bolzano per conoscersi e pensare concretamente al progetto.
Di seguito trovate il programma di massima che potrà ancora subire qualche lieve variazione e sarà completato dalla lista degli interventi non appena avremo le conferme definitive.
Deborah Mascalzoni
Institute of Genetic Medicine [2]
Section Bioethics
_______________
EURAC research
Viale Druso/Drususallee 1
39100 Bolzano/Bozen
Referente: Deborah Mascalzoni
Tel. +39 0471 055 513
Per informazioni e conferme potete contattare
Fax +39 0471 055 599
Email: deborah.mascalzoni@eurac.edu
Website: www.eurac.edu
--------------------------------------------------
Venerdì 28 Ottobre - I Sessione
14.00 Benvenuto e introduzione (Saluto del Presidente EURAC, Saluto del Direttore del Progetto)
14.20 Presentazione del Progetto Network: focus di questo incontro lo stato dell'arte e le biobanche genetiche in Italia (privacy, comunicazione, condivisione dei saperi e sicurezza, proprietà dei tessuti etc.)
15.30 Presentazioni progetti biobanche: (Ognuno avrà circa 15 minuti per presentare il progetto al quale lavora e le problematiche rilevanti ad esso legate che si vogliono condividere/esplorare/approfondire con il network)
16:50 Coffee Break
17.20 Presentazioni
18:20 Brain storming sulle principali problematiche emerse
19.00 Chiusura I sessione
20.00 Cena nel centro città
Sabato 29 Ottobre - II Sessione
9.00 Organizzazione modalità di lavoro sulle problematiche emerse il giorno precedente
9.30 Lavoro di definizione/approfondimento insieme o in gruppi sulle singole tematiche
Gli spazi a disposizione ci consentiranno di scegliere la tipologia di lavoro che risulterà essere il più gradito al gruppo.
11.15 Coffee Break
11.40 Linee di ricerca possibili, condivisione delle riflessioni sviluppate
13.00 Pausa pranzo
14:00 Progetto ricognizione (percorso di rilevamento dei nostri lavori che mappi e renda disponibile lo sviluppo della riflessione etica/giuridica sulle biobanche genetiche oggi in Italia.)
16:00 Coffee Break e Chiusura dei lavori
Mostra/Nascondi i link citati nell'articolo
Link citati nell'articolo:
1] /schedabiografica/Gian Maria Borrello
2] http://www.eurac.edu/org/geneticMedicine/geneticMedicine/index.htm
CC
Creative Commons - some rights reserved.


Download pdf