Io, Robot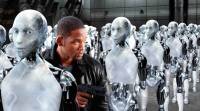 All'omonimo
libro

[2]
di Isaac Asimov è ispirato il
film

[3]
diretto da Alex Proyas (già regista di "Dark City" e di "Il corvo") con:
Will Smith

[4]
, Bridget Moynahan, Bruce Greenwood, James Cromwell, Chi McBride, Alan Tudyk. Il thriller, caratterizzato da spettacolari effetti speciali ed ambientato nel 2035, indaga sull'affidabilità dei robot, diventati nel tempo oggetti domestici di comune utilizzo. In programmazione nelle sale cinematografiche dal 24 ottobre, il film è visibile gratuitamente in anteprima il prossimo 13 ottobre a Roma (Warner Village di Piazza della Repubblica) per tutti coloro che prenoteranno al
link

[5]
dell'invito. All'aspetto etico della progettazione e dell'impiego dei robot è dedicata la successiva tavola rotonda, moderata dal geologo
Mario Tozzi

[6]
, con
Daniela Cerqui

[7]
(antropologa presso l' Institute of Anthropology and Sociology, University of Lausanne),
Carlo Rambaldi

[8]
(artista, premio Oscar per Kong, Alien, E.T.), Guglielmo Tamburini (collaboratore all'Istituto di Cibernetica del CNR di Napoli),
Gianmarco Veruggio

[9]
(Presidente della Scuola di Robotica)
L'evento è organizzato da 20th Century Fox e dalla Scuola di Robotica [10], un'associazione molto attiva che ha già sviluppato numerose iniziative in collaborazione con il MIUR (Enis meeting, Palmaria 2003) e con l'ICE (Progetto Europeo Socrates Minerva EduRobot). In precedenza, in questo blog [11], è stato segnalato il convegno Roboethics [12].
Nel sito della FGB si veda anche l'articolo "The Ultimate Danger: apocalittici e integrati [13]" (secondo step dell'iniziativa Collaborate [14]
Mostra/Nascondi i link citati nell'articolo
Link citati nell'articolo:
1] /schedabiografica/Paola Parmendola
2] http://www.internetbookshop.it/ser/serdsp.asp?shop=1&c=RNOTX0SGAPLDN
3] http://www.irobotmovie.com/
4] http://www.willsmith.com/
5] http://www.20thfox.it/foxback/appoggio/invito1.html
6] http://diamante.uniroma3.it/hipparcos/mariotozzi.htm
7] http://wwwpeople.unil.ch/daniela.cerquiducret/
8] http://www.snc.it/fondazione/organizzazione_04.asp
9] http://www.robotlab.ian.ge.cnr.it/veruggio/staff_gianmarco_veruggio_i.htm
10] http://www.scuoladirobotica.it/
11] /06/parmendola/2004_02_01_archive.htm#107711462278997354
12] http://www.roboethics.org/
13] /06/collaborate/000282.htm
14] /06/collaborate/archives.htm
CC
Creative Commons - some rights reserved.


Download pdf